Chris Brown Fakes Community Service?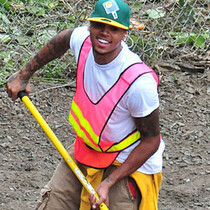 Posted February 6th, 2013 @ 7:32am
Is Chris Brown headed for even more trouble?
The L.A. District Attorney's office says Breezy actually faked much of the community service he was ordered to perform as part of his sentencing for beating up Rihanna. According to documents obtained by TMZ, the court maintains that Brown was supervised for only nine or ten of the 202 days that he claimed to have worked.
Making matters even more suspect, Brown performed most of the work at the Tappahannock Children's Center in Virginia, where he was "supervised" by his mother, the former director of the center. Breezy was supposed to be painting, washing windows, waxing floors, cutting grass and picking up trash, but the DA's office says it found no "credible, competent or verifiable evidence" that he did the service. Some of the days Brown claims to have worked were even days that he was out of the country performing.
The DA's office would like Brown's judge in Virginia to force him to do the work over again.