Kim, Kanye & North: Vogue Cover Shoot!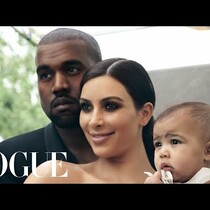 Posted March 24th, 2014 @ 9:29am
Anna Wintour said it would NEVER happen. But, apparently, hell has frozen over – because Kim Kardashian is on the cover of Vogue. She shares the spotlight with her fiance, Kanye West, on the cover of the April issue.
Ms. Wintour hasn't been shy about her feelings towards Kim. At one time she was quoted as saying, "[Kim is] the worst thing since socks and sandals." Ouch! And for the most part, the general population agreed – a reality star is not a candidate for a Vogue cover!
Kim, of course, is over the moon and Tweeted this to her adoring fans: "This is such a dream come true!!! Thank you @VogueMagazine for this cover! O M GGGGGG!!! I can't even breath!"
The public's response hasn't been quite as enthusiastic, and the April issue might suffer for it. Many critics are claiming that Wintour caved and that putting Kim on the cover is telling young people that all you need to become really famous nowadays is a sex tape, a famous boyfriend, and a reality show. (BuzzFeed)
Thoughts?
Check out Kim and Kanye's Vogue Cover Shoot.