Monica reveals she's pregnant with third child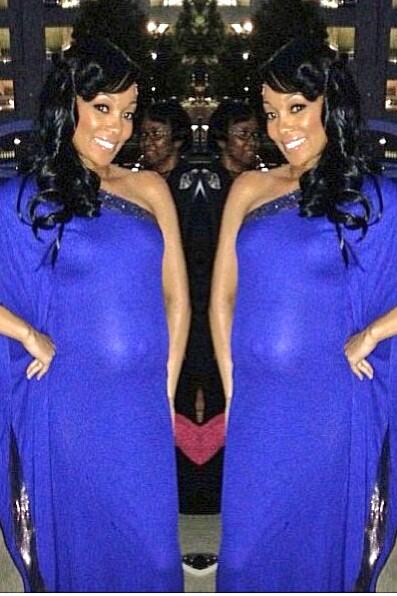 R&B singer Monica and her husband Shannon Brown are expecting their first child together. Over the weekend, Brown took to Instagram to show off Monica's baby bump.
Monica's bump can be seen through a blue gown she's wearing as she and Brown walk arm-in-arm. In a caption accompanying the pic, Shannon expressed his joy, writing "Hallelujah" and "I'm so blessed." After Monica reposted the picture on her Twitter feed, she was inundated with messages from fans wishing her the best. Monica thanked her fans and revealed that she is five months along.
Both Monica and Shannon Brown - who married in 2010 - have children from previous relationships. Monica had two children with rapper Rocko before their relationship ended in early 2010.

How did my passion for music get started? Well, I would have to say it all started with my Pops. His passion for music became his career at the age of 19 when he began workin as a radio host in the Latin industry, and he's been in Broadcasting ever since. He always made his passion for music a major part of his and our lives. Growing up, my dad always told us that music will always take you to a better place even when you're down. Although he meant that about Latin music I felt the same about Hip hop and R&B, and realized that he was absolutely right. My love and passion for music became more interesting for me as I learned more about my dad's career and his entertainment business. I then knew that I would someday take after him and do the same in the Hip Hop industry. After graduating from Northview high school in Covina and moving to Fresno, I decided to step up start my new life with a new career.. so I Applied for an Internship here @ B95. After gaining my experience, I then landed a spot on the ladies lounge Sun-Thur 10-midnight playing your favorite slow jams and taking your dedications. After 2 Years with that successful show I was offered to take over the entire night show. Shortly thereafter, I was moved to the morning shift and have been on the Juice Crew Morning Show ever since. You can also catch me from 10am-2pm everyday. So my advice to all you out there having second thoughts on life, remember.. In order to be successful, you must embrace your talents! I know I did.