JAMES FRANCO: Did He Prank Us?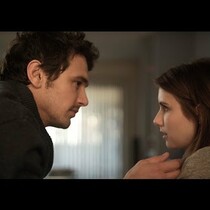 Posted April 3rd, 2014 @ 4:40pm
Publicity stunt or bad timing? That's the question surrounding James Franco's alleged attempt to pick up a teen.
Franco reportedly met the 17-year-old girl Monday (April Fools' Day), when she visiting New York from Scotland. That same day, the trailer for his new film, Palo Alto, hit the Internet. In the flick, he plays a high school soccer coach who hooks up with teenage girl, played by Emma Roberts. The movie hits theaters next month.
After the images from his text conversation were leaked, Franco posted a photo of himself with the caption "WHY ARE YOU SO THIRSTY FOR UNDERAGE ONES." He tweeted, "I'M NOT! I HOPE PARENTS KEEP THEIR TEENS AWAY FROM ME. Thank you."